Temppeliaukion kirkko
Lutherinkatu 3 , 00100 Helsinki
(09) 2340 6320
Tarkista aukioloajat osoitteesta temppeliaukionkirkko.fi / Check out the opening times temppeliaukionkirkko.fi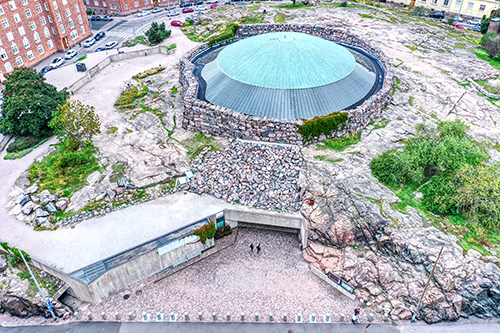 Temppeliaukion kirkossa järjestetään kirkollisia toimituksia, konsertteja ja muita tapahtumia.
Helsingin Etu-Töölössä sijaitsevan Temppeliaukion kirkon ovat suunnitelleet arkkitehtiveljekset Timo ja Tuomo Suomalainen. Temppeliaukion kirkko on vihitty käyttöön 29.9.1969.
Kallioon louhittu Temppeliaukion kirkko sijaitsee Helsingin sydämessä, Fredrikinkadun päässä. Erikoisen arkkitehtuurinsa vuoksi vuonna 1969 valmistunut kirkko on Helsingin päänähtävyyksiä. Kirkkosalin kattaa teräsbetonipalkeilla kallioseiniin tuettu, kuparinauhalla verhottu, kupoli. Sisäseinät ovat rosoista kalliota ja louhoskivimuuria. Aamupäivisin auringonvalo leviää katon reunaa kiertävästä ikkunarivistöstä alttariseinämälle, jossa alttaritauluna toimii jääkauden aikainen kallionhalkeama.
Fredrikinkadun päässä sijaitseva kallioinen alue varattiin kirkon paikaksi jo Arkadian, eli nykyisen Etu-Töölön, ensimmäisessä vahvistetussa asemakaavassa vuonna 1906. Vuonna 1931 kirkkovaltuusto anoi kaupungilta Temppeliaukioksi nimettyä tonttia rakentaakseen sille itsenäiseksi seurakunnaksi muodostettavan Etu-Töölön pääkirkon.

Kirkon arkkitehtikilpailu järjestettiin vuonna 1932. Tulokseen tyytymätön kilpailulautakunta julisti uuden kilpailun vuonna 1936. Kilvassa kolmanneksi tulleen, professori Johan Sigfrid Sirénin, suunnitelman toteuttamisen keskeytti talvisota. Sotien jälkeen järjestettiin vielä kolmas arkkitehtikilpailu, jonka vuonna 1961 voittivat arkkitehdit Timo ja Tuomo Suomalainen. Voittaneessa ehdotuksessa aukion kallio on säilytetty mahdollisimman ennallaan upottamalla kirkkosali kallion sisään ja sijoittamalla muut seurakuntatilat kumpareen reunoille.

Yleinen mielipide vastusti suunnitelmaa. Lehtikirjoituksissa hanketta nimitettiin kalliomoskeijaksi, miljoonakirkoksi ja piruntorjuntabunkkeriksi. Ihmiset halusivat paikalle perinteisen katedraalin. Moraalittomana kirkon rakentamista silloisessa maailmantilanteessa piti joukko Ylioppilaiden Kristillisen Yhdistyksen opiskelijoita, jotka heinäkuussa 1968 maalasivat rakenteilla olevan kirkon betonisiin perustuksiin ja sitä ympäröiviin kallioihin yksitoista kertaa sanan Biafra. Suomen ensimmäiset graffitit vaativat rakennusrahojen lähettämistä Biafran itsenäisyyssotaa seuranneen nälänhädän uhreille. Kalliiksi ja suureelliseksi moititun kirkon rakennuskustannukset jäivät lopulta maltillisesti neljään miljoonaan markkaan.

Taivallahden kirkko otettiin käyttöön 29.9.1969. Vuonna 1971 nimi muutettiin virallisesti Temppeliaukion kirkoksi. Jo samana syksynä kirkossa kävi yli 100 000 vierailijaa, ja jumalanpalveluksissa sali täyttyi säännöllisesti. Seuraavana vuonna kävijöitä oli reilu puoli miljoonaa. Kirkosta tuli varsinkin ulkomaalaisten matkailijoiden suosikki ja Helsingin tärkein arkkitehtuurikohde. Kirkkoa on esitelty yli 200 arkkitehtilehdessä ja arvostetuissa museoissa eri puolilla maailmaa. Ainoana Suomesta Temppeliaukion kirkko on päässyt mukaan italialaiseen teossarjaan I Cento Monumenti (suom. Maailman nähtävyydet, WSOY 1980).

Peruskallioon louhittuun kirkkotilaan astutaan katutasosta. Vapaamuotoinen, soikeahko, kirkkosali kylpee päivänvalossa, jota tuo kallioseinän ja kattokupolin välissä leveydeltään vaihteleva kattoikkunoiden rivi. Eripituiset teräsbetoniset säteittäispalkit kannattelevat kupolia. Kupoli ja lehteri on verhoiltu patinoimattomalla kuparilla. Lattia on hiottua betonia, saarnatuoli teräsbetonia samoin kuin lehterin jalustarakennelma. Kallionhalkeamista valuva vesi johdetaan pois erityisiä kanavia pitkin. Seinien korkeus on 5–9 metriä. Kupolin halkaisija on 24 metriä ja lakipiste lattiasta 13 metriä. Alttaritauluna kirkossa toimii jääkauden aikainen kallionhalkeama. Alttaripöytä on tasaiseksi sahattua graniittia.

Arkkitehtiveljesten suunnittelema sisustus toistaa graniitin, Suomen yleisimmän kivilajin, sävyjä eli punaista, sinipuista ja harmaata. Penkit ovat koivua. Krusifiksin, kyntteliköt ja kastemaljan on takonut taiteilija Kauko Moisio. Tekstiilit on suunnitellut tekstiilitaiteilija Tellervo Strömmer. Urkurakentamo Veikko Virtasen uruissa on 43 äänikertaa. Urkujen ulkoasun ovat suunnitelleet kirkon arkkitehdit.

Temppeliaukion kirkko on suosittu konserttitila ja vihkikirkko. Kirkossa on kuoroa varten porrastettu koroke ja orkesterille on varattu lattia-alaa. Temppeliaukion kirkossa ei ole kelloja. Professori Taneli Kuusiston säveltämät kellojen soitot kajahtavat nauhalta ulkokivimuurissa olevien kovaäänisten kautta.

Kirkkoa kiertävä kivimuuri on ladottu toisiinsa terässitein kiinnitetyistä louhoskivistä. Kallioistutukset on suunnitellut puutarha-arkkitehti Erik Sommerschield.

Vuonna 2004 Temppeliaukion kirkosta tuli suojeltu rakennus.
Temppeliaukio Church
Welcome to visit Temppeliaukio Church! We warmly welcome you for an actual visit during our opening hours and virtually when ever it's convenient for you. To see more photos of the church, follow us on Instagram.
Temppeliaukio Church is the home of the Lutheran parish Töölön seurakunta, Töölö Parish. We have about 16 500 members in the area.
Our opening hours offer you a possibility to visit the church and enjoy the busy daytime hours with visitors walking around, our many musical events, peaceful time to pray and meditate in the evenings or our main event of the week, the Sunday Service.
Excavated directly into solid rock, the Temppeliaukio church is situated in the heart of Helsinki, at the end of Fredrikinkatu. Because of its special architecture, the church, completed in 1969, is one of the main attractions in Helsinki. The church hall is covered with a dome, lined with copper and supported on the rock walls by reinforced concrete beams. The interior walls are of rugged rock and rubble wall. Before noon, the sunlight spreads from the row of windows surrounding the roof periphery to the altar wall, where an ice-age crevice serves as the altarpiece.

The rocky area at the end of Fredrikinkatu was already reserved as the location for the church in the first confirmed city plan of Arkadia, that is, the current Etu-Töölö, in 1906. In 1931, the parish council applied to the city for the plot of Temppeliaukio, to build the main church of Etu-Töölö, which was being made an independent parish,.
The architecture contest for the church was organised in 1932. Unhappy with the results, the contest committee announced a new contest in 1936. The implementation of the plan of professor Johan Sigfrid Sirén, second runner-up in the contest, was terminated by the Winter War. After the wars, a third architecture contest was organised, and it was won by architects, Timo and Tuomo Suomalainen, in 1961. In the winning proposal the rock was kept as intact as possible, by embedding the church itself inside the rock and placing the other parish facilities on the edges of the hillock.
Public opinion was against the plan. In the newspapers the project was called a "rock mosque", a "million mark church" and "devil defence bunker". People wanted a traditional cathedral instead. A group of members of the Students' Christian Association thought that building a church in the world situation of the time was immoral, and in July 1968 they painted the word Biafra eleven times on the concrete foundation of the church and on the surrounding rocks. The first graffiti in Finland requested sending the building funds to the victims of the famine which had followed the struggle for independence in Biafra. The building costs of the church, considered expensive and extravagant, were a moderate four million marks in the end.
The Taivallahti church was dedicated in September 1969. In 1971 the name was officially changed to Temppeliaukio church. That same autumn, the church was visited by over 100,000 people, and the church was regularly full during services. The following year there were over half a million visitors. The church became a favourite of foreign visitors and the most important architectural sight in Helsinki. The church has been mentioned in over 200 architecture journals and respected museums around the globe. As the only example in Finland, the Temppeliaukio church was included in the Italian book series I Cento Monumenti, which introduces the sights of the world.
The church area excavated in the bedrock is entered from street level. The free-form, oval church hall bathes in daylight, which enters through the row of skylights, varying in width, between the rock wall and the dome. Reinforced concrete beams of different lengths support the dome. The dome and the gallery are lined with non-patinated copper. The floor is polished concrete, and the pulpit is reinforced concrete, as is the base structure of the gallery. Water trickling from the cracks in the rock is conducted away along special ducts. The height of the walls is 5–9 metres. The diameter of the dome is 24 metres, and the distance from the highest point from the floor is 13 metres. An ice-age crevice in the rock serves as an altarpiece. The altar is of evenly sawn granite.
The interior, designed by the architect brothers, repeats the shades of granite, the most common type of stone in Finland: red, mauve and grey. The benches are made of birch. The crucifix, candelabra and font were forged by artist, Kauko Moisio. The textiles were designed by textile artist, Tellervo Strömmer. The organ, built by Urkurakentamo Veikko Virtanen, has 43 stops. The exterior of the organ was designed by the architects of the church.
The Temppeliaukio church is a popular concert facility and wedding church. There is a split-level platform for the choir, and floor space is reserved for an orchestra. The Temppeliaukio church has no bells. Recorded bell tunes composed by professor Taneli Kuusisto chime through the speakers on the exterior stone wall.
The stone wall surrounding the church has been constructed of quarried stones held together with steel bindings. The planted areas on the rocks were designed by garden architect, Erik Sommerschield.
The church and the associated parish facilities are used by the Finnish Töölö parish.
In 2004, the Temppeliaukio church became a protected building.
Entrance fee 3€/person. Free entrance for members of Töölö parish, children under 18 years and with a valid Helsinki Card. Last entrance 10 minutes before closing time. On Sunday we celebrate mass at 10 o'clock. On Monday, Tuesday, Thursday and Friday there is a short prayer at noon in English.
Members of the church can organise a baptism, a wedding or a funeral free of charge in the church. The church seats 750 and the connected parish meeting hall 80.
Temppeliaukio Church history
1906: The street plan for southern Töölö was laid out at the turn of the century after a planning contest had been brought to a close. Most contest proposals expected a monumental building, most often a church, to be built on the hill of Tunturilaakso (the site of Temppeliaukio Church today).
1932: After negotiations were over, the parish council decided to announce an open design contest for the church itself and its location. 57 proposals were given of which two architects, Kaj Englund and Lasse Björk, were given second place.
1936: The outcome of the competition did not please the contest committee, and thus a new contest was announced. This time 23 proposals took part. As with the previous contest, the committee ended up giving out two prizes for second place. The prizes went to architects Martti Välikangas and Aarne Ervi along with Toivo Paatela. Third place went to Professor J. S. Siren. The parish council accepted Professor J. S. Siren's drawings of a cathedral as the ground plan for the building project. Quarrying began in November 1939 but WWII soon brought the construction work to a halt.
1959: The parish council decides to give up continuing J. S. Siren's plan.
1960: The parish council announces yet another architecture contest. 67 building proposals were left for the new church.
1961: Timo and Tuomo Suomalainen are announced the winners of the contest with their proposal of the "Rock Church".
1965: On January 1st Taivallahti begins operation as a congregation.
1966: New drawings of the church are approved on February 18th, 1966.
1967: The maximum budget for construction is drawn at 3,550,000 Finnish marks.
1968: Construction work begins February 14th, 1968.
1969: Temppeliaukio Church is inaugurated on September 28th, 1969.
2004: The total amount of people to have visited the Rock Church is 18 million.
The Temppeliaukio Church Organ
Along with the founding of the congregation of Taivallahti in 1965, master organist Pentti Pelto was appointed the first permanent post as church musician for Taivallahti. For the almost 5 years that it took to complete the church, Taivallahti congregation worked in temporary facilities in Olaus Petri Church. During that time Pelto developed his idea for the Temppeliaukio Church organ. In 1969, the year Temppeliaukio Church was completed, Pentti Pelto became the head of Kangasala Organ factory and so the main responsibility of completing the church organ fell upon the then leading pair of Helsinki's congregations' organ committee, Asko Rautioaho and Matti Rindell. The two men designed and saw through the construction of the organ according to contemporary (1960's and 70's) timbre ideals.

Many still remember the almost nation-wide dispute over the construction of Temppeliaukio Church. The same uproar almost accompanied the construction of the church organ as well: for several years there was debate on the appearance of the organ and on where it was to be placed, with the church being flooded with many different ideas on the matter daily. In the end, the organ was completed in one year out of sight behind a protective wall. Finally in 1975, the organ was completed and it was time for its inauguration along with a series of concerts.

Organ builder Veikko Virtanen built the organ (Opus 75) in 1975. The organ has 4 manuals and pedalboards, 43 stops and 3001 organ pipes. The organ has a mechanical action and an electrical action.

Asko Rautioaho has designed the overall layout and disposition of the organ. The façade is designed by Timo and Tuomo Suomalainen. Sound design is by Ossi Viitala and structural design is by Veikko Virtanen.
Tempelplatsens kyrka
Tempelplatsens kyrka som är insprängd i berget är belägen i slutet av Fredriksgatan, i hjärtat av Helsingfors. På grund av sin speciella arkitektur är kyrkan, som blev färdig 1969, en av huvudsevärdheterna i Helsingfors. Kyrksalen täcks av en kupol draperad med kopparband som stöds i bergsväggarna med balkar av armerad betong. Innerväggarna består av skrovliga klippor och en mur av huggen sten. På förmiddagarna sprider sig ljuset från fönsterraden som omger takkanten till altarväggen, där altartavlan utgörs av en bergsspricka från istiden.
Det bergiga området i ändan av Fredriksgatan reserverades som plats för en kyrka redan i Arkadias, dvs. nuvarande Främre Tölös, första bekräftade stadsplan från 1906. År 1931 ansökte kyrkofullmäktige om att överta tomten, som getts namnet Tempelplatsen, från staden för att bygga en huvudkyrka för den självständiga församlingen Främre Tölö.
En arkitekttävling för kyrkan ordnades 1932. En ny tävling utlystes 1936 eftersom tävlingskommittén var missnöjd med resultatet. Förverkligandet av professor Johan Sigfrid Siréns ritningar, som kommit på tredje plats i tävlingen, avbröts av vinterkriget. Efter krigen ordnades en tredje arkitekttävling som 1961 vanns av arkitekterna Timo och Tuomo Suomalainen. I det segrande förslaget hade man behållit så mycket som möjligt av den ursprungliga formen i skvärens berg genom att sänka in kyrkosalen i berget och placera de övriga församlingsutrymmena på sidorna av kullen.
Den allmänna opinionen motsatte sig planen. I tidningsskriverier benämndes projektet bergsmoské, miljonkyrka och djävulsbekämpningsbunker. Folket ville ha en traditionell katedral på platsen. En grupp studenter från Studenternas Kristna Förening ansåg att byggandet av kyrkan var omoraliskt i det rådande världsläget och målade i juli 1968 elva gånger ordet Biafra på den halvfärdiga kyrkans betonggrund och omringande berg. Finlands första graffitikonstnärer krävde att byggpengarna skulle skickas till offren för den hungersnöd som följde av Biafras krig för självständighet. De slutliga byggnadskostnaderna för kyrkan, som kritiserats som dyr och överdådig, stannade till slut på en moderat summa på fyra miljoner mark.
Edesvikens kyrka togs i bruk i september 1969. År 1971 ändrades namnet officiellt till Tempelplatsens kyrka. Redan samma höst hade kyrkan över 100 000 besökare, och under gudstjänsterna fylldes kyrkan regelbundet. Följande år var besökarantalet drygt en halv miljon. Kyrkan blev ett favoritbesöksmål för i synnerhet utländska turister och Helsingfors viktigaste arkitektoniska objekt. Kyrkan har visats upp i över 200 arkitekttidningar och ansedda museer i olika delar av världen. Som enda finländska objekt har Tempelplatsens kyrka kommit med i den italienska serien I Centro Monumenti (fi. Maailman nähtävyydet, WSOY 1980).
Man går in i kyrkoutrymmet, som brutits in i urberget, från gatunivå. Den fritt formade, ovala kyrksalen badar i dagsljuset, som sprids genom en rad takfönster av varierande bredd mellan bergsväggen och takkupolen. Kupolen bärs upp av strålformiga balkar i armerad betong av varierande längd. Kupolen och läktaren är beklädda med opatinerad koppar. Golvet är av slipad betong, predikstolen liksom läktarnas piedestalbygge av armerad betong. Vattnet, som rinner ur sprickorna i berget, leds bort via särskilda kanaler. Höjden på väggarna är 5–9 meter. Kupolen är 24 meter i diameter och den högsta punkten från golvet är 13 meter. Som altartavla i kyrkan fungerar en istida bergsspricka. Altarbordet är av jämnt kapad granit.
Inredningen som planerats av arkitektbröderna upprepar nyanser hos graniten, Finlands vanligaste stensort: rött, blårött och grått. Bänkarna är av björk. Krucifixet, kandelabrarna och dopfunten är smidda av konstnären Kauko Moisio. Textilerna är designade av textilkonstnären Tellervo Strömmer. Orgeln tillverkades av orgelbyggeriet Veikko Virtanen och den har 43 register. Orgelns exteriör har planerats av kyrkans arkitekter.
Tempelplatsens kyrka är ett populärt konsertutrymme och en populär vigselkyrka. Det finns ett podium i flera nivåer för kören och golvyta reserverad för orkestern. I Tempelplatsens kyrka finns inga klockor. Klockringningarna som komponerats av professor Taneli Kuusisto skallar från ett band genom högtalare i den yttre stenmuren.
Stenmuren, som omringar kyrkan, är staplad av schaktstenar som fästs till varandra med stålband. Stenpartierna planerades av trädgårdsarkitekten Erik Sommerschield.
Kyrkan och församlingsutrymmena i anslutning till den används av finskspråkiga Töölön seurakunta.
Tempelplatsens kyrka blev en skyddad byggnad 2004.

Det är kostnadsfritt att ordna dop, bröllop eller begravning i kyrkans utrymmen.
I kyrkan finns 750 sittplatser och i församlingssalen i anslutning till kyrkan finns 80 sittplatser.
Kuva / photo: Juha Martinmaa




---
Tapahtumat
Lutherinkatu 3, 00100 Helsinki
Lutherinkatu 3, 00100 Helsinki